Father Kip Stander, S.M. '73, has served at St. Mary's University as well as in Kenya and India and, for the last three years, at UD as the University chaplain. We asked him what that entails.
I ask the question, "How did the two of you meet?"
And they answer, "We were involved in a service project our sophomore year. We developed a friendship, dated and grew in our relationship. And here we are today — preparing to get married!"
As I meet with couples, I am invited into special moments in their lives — a blessed aspect of my ministry at UD.
It is a privilege to serve in a position that puts me in touch with UD people at important times in their lives. My specific role is to offer sacramental ministry (Mass, reconciliation) and spiritual guidance to students, a ministry that extends to faculty, staff, alumni and parents.
I interact with them as they graduate, marry, grieve, suffer illness, manage transitions in life, discern the future. This engages, challenges and humbles me.
On campus, our Eucharistic celebration — whether on an evening in a residence hall or a Sunday in the Chapel of the Immaculate Conception — is centered on the presence of Christ in word, sacrament and community. We gather to pray and go forth to live God's message.
At the baccalaureate Masses, as students prepare to go forth from UD, we rejoice with them and their families at the opportunities, the support and the growth that led to this special day.
I meet with many alumni as they return to UD to celebrate their weddings. Often the couple has wonderful stories of career and challenge and commitment.
In time of illness or loss, I am also called upon. Offering support and prayer is both demanding and a grace-filled moment. The individual and family and friends often experience the fragility of life and the prospect of drastic changes in plans and hopes and dreams. In such a troubled and uncertain time, I try to bring witness to faith and community.
I am blessed to minister in this gifted community.
---
An accidental Marianist
Lisa Rismiller, who works in the president's office as secretary of the board of trustees, has called herself that. We asked her why.
I was born and raised in a town with no Catholic school.
My parish, where I attended Mass and less-than-inspirational catechism classes, didn't feel welcoming and inclusive.
My high school sweetheart and I married in that same church where we'd grown up. We continued to attend Mass regularly; we dutifully raised our sons Catholic. But I never felt connected to the local parish. It felt like going through the motions.
And I started to realize — and resent — how sexism affected my life and career choices. A sense that women were sometimes treated as second-class citizens by the Catholic Church certainly didn't help my connection to it.
Planning on a career in city management, I came to UD for a graduate degree. But an unforeseen opportunity arose — to be able work for then-president Brother Ray Fitz, S.M., while finishing my degree. Twenty-one years later, I'm still here.
Just as this Catholic, Marianist university forms students, it has formed me.
Here I've come to know, work with and learn from kind, compassionate, talented, hard-working and peace-loving Marianists — vowed and lay. Their world view, their passion for the Marianist charism and what it has to offer the world has seeped into my bones. I've learned how to "stay at the table" when the going gets rough, how to be a lifelong learner and how to give of myself in support of others.
My experience with Marianists, especially the immersive and ongoing formation as a Marianist Educational Associate, kept me not only at UD but also in the Catholic Church. I still struggle at times, but I've come to a place where the positives outweigh the challenges. I seek to be like some Catholic women I've come to know and admire; they're challenged as I am but stay to be part of making the Church better for all.
I plan to stay, too, as I know walking with the Marianists will make me a better spouse, parent, colleague … a better human being. Call it a "happy
accident."
---
What's it like to live in a Marianist student community?
We asked that question of Andrew Kramer, who, with six other seniors, lives at 340 Stonemill, home to one of nine Marianist student communities at UD.
We heard about the houses as sophomores, and we had had contact with some Marianist brothers. It didn't seem too hard — share some meals and prayers. Last year we lived at 57 Wood-land, and we stayed together for this year.
Many of us met at Callings, a Campus Ministry summer program for incoming first-years. I came to UD for the usual reason — it felt special. Callings is part of that. Lots of schools have good academics and dining halls, but here there is something more. Callings encouraged asking questions: "Who do I want to be?" "How can I make a difference?" "How can I connect my studies with my faith and values?"
We are pursuing a variety of majors: accounting and entrepreneurship (Michael Keller), entrepreneurship and international business (Collin Seventy), exercise physiology (Mark Bugada and me), international studies (Nicholas Dalton and Bradley Petrella, who's also a Spanish major) and mechanical engineering (Steve Miller).
And our interests and activities are varied: Flyer News sports editor, Pershing Rifles, president of the New Abolition Movement, president of the Food Recovery Network, EMT squad, captain of men's Ultimate Frisbee, and Dayton Civic Scholars. And, as a community, we do service and host events.
A mission statement is asked of each of the Marianist student communities. Ours is, "The community of 340 Stonemill is committed to following Mary's example by identifying and responding to opportunities to serve in communities across Dayton with glad hearts."
With our individual studies and activities, it takes some effort to do things as a community. But we usually gather to pray in the evening on Sunday, Monday and Wednesday. We have a meal together on Tuesday night, and, breakfast together on Thursday.
On Thursday night we also get together. We don't pray. We don't eat. We just hang out.   
---
How does the Marianist charism affect your everyday life?
We asked that question of Maureen O'Rourke '05, director of PULSE, a post-graduate service program of the Society of Mary.
Two courses taught by Brother Ray Fitz, S.M., really nudged me to live the charism in the urban core of Dayton.
Living in the Five Oaks neighborhood for the last 12 years, I have served on the neighborhood association board with many committed individuals. Joan Means, in particular, has a steadfast dedication, confidence and passion for inner-ring neighborhoods.
At our local Catholic church — while serving spaghetti, delivering care packages and engaging children while their caregivers enjoyed their meal — Joan and I shared stories.
Since 2015 I have worked with Marianist PULSE (Partners in Urban Leadership, Service and Education). Each of our volunteers serves 35 hours per week from August to June at nonprofits in Dayton meeting needs for education, justice, integrity of creation and food access.
I told Joan of our challenges in finding housing. One evening, while Joan and I were offering desserts to guests, she said she'd like to buy the PULSE program a house.
We now own a home in the heart of Five Oaks.
Joan's gift honors her late husband, Michael Means, who served on UD's faculty for 38 years. Mike had a passion for medieval literature, the circus, the Marianist charism and family spirit of UD, and the Five Oaks neighborhood. He and Joan served on countless city and neighborhood committees and boards.
Her passion has enlivened her work as a Dayton Public Schools teacher, her neighborhood leadership and her gardening. As we prepared to close on our new home, Joan was meeting neighbors, weeding the yard and dropping off pots of flower arrangements.
The home will be called the Michael Means Marianist PULSE Community. In the dining room volunteers will gather for meals and, for spiritual nourishment, in the second-floor chapel. On their porch, they will form relationships with neighbors, living in solidarity.
---
Is it one big, happy family or life in a bubble?
We asked that question of Allison Leigh, director of Marianist strategies in the Office for Mission and Rector. Her doctoral dissertation was on "The Catholic and Marianist Culture at the University of Dayton as Revealed Through Student Voices."
People at UD know there is a distinctive culture here but often have a hard time articulating it. They speak of "that feeling you get on campus" or describe it as a friendly and hospitable place where people open doors for one another.
Sometimes they describe it as life in a bubble.
Being both friendly and insular seems paradoxical. Perhaps not. Those who see life here as life in a bubble are quick to emphasize the importance of "bursting the bubble" by getting off campus into the city or going overseas on an immersion trip.
According to students, the "UD bubble" can be positive, helping them connect to each other and giving them pride in a shared experience, but UD also encourages gaining new perspectives beyond the bubble.
Inside and outside the bubble, relationships are the foundation of students' growth.
In doing my research, I heard students speak of how living, socializing and praying together helped them understand and appreciate differences between themselves and others as well as learn about their own strengths and weaknesses. They spoke of the importance of finding a smaller community — whether in a living-and-learning program, Campus Ministry or Greek life — with whom one shares the same values, of the role such communities play in discovering one's vocation.
The first Marianists — lay and religious — came together in small groups. The members of these sodalities, or faith communities, were united by shared values. As with today's students, they also believed that education can happen anywhere. Students I talked with spoke of learning in their courses,
in co-curriculars and in campus employment.
And students today, like those early Marianists, are looking beyond their small communities. Like the Marianist founders, today's UD students believe they can transform the Church and the world.
---
What's at the heart of being a Marianist?
We asked that of Father William J. Meyer, S.M., provincial assistant for religious life of the Marianist Province of the
United States.
The distinctive trait at the heart of anyone or anything which is "Marianist" is probably the combination of two characteristics: zeal and mission. Look at the dynamic statue of Blessed William Joseph Chaminade, founder of the Marianist Family, which graces the plaza behind UD's Kennedy Union to notice that Blessed Father Chaminade is represented as filled with a zealous energy, a person definitely on a mission. (See video of the statue below.)
From where did this concern for "zeal and mission" in the Marianist tradition emanate? In founding the Marianist Family — the first lay groups of the Sodality of Bordeaux (1800), the Marianist sisters (the Daughters of Mary Immaculate, 1816) and the Marianist brothers and priests (the Society of Mary, 1817), Blessed William Joseph took inspiration from the Rule of Saint Benedict. In what many refer to the crowning chapter of his Rule, Benedict speaks of the importance of "good zeal." Like Saint Benedict, Blessed Father Chaminade liked the word "zeal" — a powerful word that is used in the Scriptures. And there is something about Benedict and Chaminade that is zealous. As I look at the UD statue of Chaminade, I see energy, a fire burning within, the fire of the Holy Spirit — the good zeal of God's grace.
Marianists encourage one another and others they encounter using our saintly founder's words: "The essential is the interior." If we pay attention to the interior life of God's graceful promptings, the direction of the Holy Spirit will help each of us do our part to bear Jesus, as Mary did, to a waiting world. Blessed Father Chaminade believed that we could best be attentive to this presence and movement of God within by being part of a community, religious and lay, as mission-driven members of the Church. Chaminade believed that all Marianists and indeed all baptized members of the Church are in a permanent mission of responding with zeal to this grace of bringing about the Kingdom of Jesus.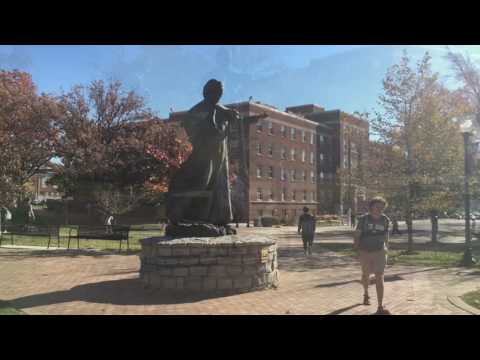 ---
What can we do?
We asked that of Caitlin Cipolla-McCulloch, nF.M.I. '12, and  Gabrielle Bibeau, nF.M.I. '11, two novices of the Daughters of Mary Immaculate, the Marianist sisters.
"'A peacemaker prays,' said the spiritual writer Father Henri Nouwen," according to Bibeau. "Part of the novitiate is focusing intensely on your prayer life, which includes an hour a day in silent prayer as well as studying the charism and doing spiritual reading.
"In these times of political turmoil and fear of the 'other,' I am reminded of how important prayer is for us to be people of peace. Spending time each day with God is where I gain the energy to speak the truth in humility and to love those with whom I strongly disagree. And my prayer is best when it reminds me to remember the sufferings and trials of people around the world and to live my life in a way that can, I hope, have a positive impact."
"It is disheartening," Cipolla-McCulloch said, "to see the many acts of violence occurring in the human family. The founders of the Marianist family, however, also lived in violent times. The founders responded by forming small communities of faith. Our communities, our families, are our first places where we can practice nonviolence.
"We can be people of prayer who seek to understand the differences among ourselves. We can be people of hospitality welcoming all kinds of people to our tables and homes. We can follow Mary's example of pondering in our hearts. We can strive to be on the margins, advocating for those who are persecuted.
"We can form ourselves in faith and hope so that we can share this faith and hope with our church and our world.
"Our communities can help us share, help us gain perspective and challenge us to think about new, exciting ways to be people of peace."
---
What has been the Marianists' reaction to Pope Francis' encyclical?
We asked this question of Brother Ron Overman, S.M. '68, assistant provincial for temporalities (finance) of the Marianist Province of the United States. His answer:
There was great anticipation about the encyclical. Many of my Marianist brothers speculated on the content. We have not been disappointed — especially with how Pope Francis connects respect for the environment with how the environmental issues relate to keeping the poor of the world poor.
Many of our communities have read and used the encyclical for community meetings to further understand how the environment not only impacts the poor of the world but also how it will affect future generations. (One helpful study guide was published by National Catholic Reporter, "A Readers' Guide to Laudato Si,' " by Jesuit Father Thomas Reese.)
Soon after the Laudato Si' was published, the Conference of Major Superiors of Men (CMSM) encouraged all religious orders of men to adopt a resolution called "Cherish All of Creation."
The tenets of the resolution include these beginnings:
"We resolve to significantly change our lifestyle, including our consumption habits …
"We resolve to significantly increase our reliance on green energy in our ministries, buildings, and our investments …
"We resolve that we significantly decrease our use of fossil fuels … by purchasing carbon off-sets to increase environmental improvement.
"We resolve to consistently advocate for significant policy changes at the local, national and international spheres …"
Each tenet comes from the encyclical Laudato Si' and brings us practical ways to make the encyclical part of our life.
Ninety-eight percent of the members of the Marianist Province of the United States endorsed the CMSM resolution.
Several of our communities have already sought ways to use green energy in their local houses. Several have used an alternative energy company (Arcadia) to supply green energy to the power grid, thus reducing fossil fuel use. Such use of green energy may be a small step, but it is the right step and respects the direction of Care for our Common Home.
---
On what ministries are the Marianists worldwide focusing?
We asked that question of Father Manuel Cortés, S.M., superior general of the Society of Mary. His answer:
In all countries where we are present, Marianists focus on our ministries of education, understood as the formation of the whole person, according to the perfect human model, Jesus. Since the days of Blessed William Joseph Chaminade, we have considered this the service the Lord asked of us: to form human persons in the way that Mary formed Jesus as a human being. We call ourselves "Marianists" because we are called to continue the educational mission of Mary in our Church and in our world. Inspired and accompanied by Mary, our vocation is to form others to become brothers and sisters of Jesus, as well as brothers and sisters of each other.
As Marianists, we are open to any type of ministry that may serve to form persons. In addition to our educational institutions, we are committed to other ministries that exercise an important educational influence — such as parishes; programs promoting social justice; adult formation; faith communities; and attending to those excluded from educational systems owing to social, economic or other circumstances.
Chaminade, deeply touched by an era of great change, that of the French Revolution, understood people's need to be educated, to receive the formation needed to avoid being swallowed up by the turmoil of great cultural change. We are living through a similar period, a time of perhaps even more profound change. Pope Benedict XVI characterized it as an "educational emergency," and Pope
Francis has not ceased calling for the dedication of all possible resources to address this clear need in the area of education. In light of this, Marianists cannot but feel spurred on in our mission. We hope that the Lord will give us vocations to be able to continue to develop in this area.
The educational emergency of our age appears most acutely in the poorest societies and among those marginalized in the richer societies. The "good life" of those who live in opulence increasingly leaves behind victims condemned to poverty and hunger. We Christians cannot remain indifferent to the cry of the poor, as Pope Francis has repeated so often. Since the 1950s, the Marianists have responded to this call by founding communities and works in poor countries and marginalized areas. We are present in 33 countries. In 18 of these, we have been present only since the last half of the 20th century, with the great majority of these having a high level of poverty.
Our Marianist focus, therefore, remains faithful to our founder's vision but also very much in conformity with the needs of today's world. Our ministry remains deeply rooted in Marianist tradition and spirituality and very much alive in active mission.
---
Answering questions in this issue is Matt Dunn '91, executive director of the Montgomery County (Ohio) Arts and Cultural District, whose volunteer work includes serving on the national leadership council for the Marianist laity. Questions not appearing in the print edition are listed first.
How has your experience as a Lay Marianist influenced both your career (not only the "what you do" but also the "how you do it") and your involvement with the Marianists at the national level?
—AMY D. LOPEZ-MATTHEWS '86, DAYTON
My professional life and volunteer commitments have always been geared toward service and making the world a better place. My commitment as a lay Marianist has guided, affirmed, and reinforced the choices I have made professionally and within the Marianist Family. As a Marianist lay person, I believe the way I live my life should be a model of the new evangelization, where the way I live my life is itself a mission. I also believe we all have gifts to share. I share mine through volunteerism and working to strengthen the Marianist Family in circles beyond my own local community. At the national and international levels we say we are a community of communities. So I always keep in mind that I'm part of something bigger. The idea of individual gifts is also present to me in everyday relationships. One aspect of the Marianists is mixed composition and discipleship of equals. We are a family of sisters, brothers, priests, and lay people. We are all equals and each have something to contribute in our own way. I take that into the workplace and other settings remembering that everyone has a voice, everyone has value, everyone has their own unique way of contributing to a combined effort.
What influence has family had on your aspiration and commitment to be part of the Marianist community?
—LINDA C. LOPEZ '81, KETTERING, OHIO
The family spirit that so many experience at UD is a hallmark of the Marianist charism. What I have found in the Marianist Family, even beyond UD, is people who care for one another, challenge one another, support one another, pray together, share meals together, and celebrate with one another. The Marianist Family really is a family. Even when we don't agree, we still love each other and realize we are all on this journey together. If anything, I think the Marianist sense of family and community has helped in my own relationships with family and friends!
What are the gifts that lay Marianists bring to the larger Church today?
—MARY HARVAN GORGETTE '81, PARIS
The Marianist charism is a wonderful gift to the church. In some ways it's what keeps me Catholic. The charism is manifested in our experience of Mary, community, faith, inclusiveness/hospitality, and mission. The Marianist family is a place of welcome where priests, brothers, sisters, and laity are equals, although each has their role. The church needs to be a place where all are welcome and valued. The idea of community reminds us that we are part of something larger than ourselves. Church is more than what we do on Sunday. As a faith community Marianists understand this. Pope Francis has said we need to be a more Marian church. We are blessed to model our lives after Mary, not as someone on a pedestal to be worshiped, but as a model of courage, strength, and willingness to say "yes" to God's call in our lives. Because laity "live in the world" we have a unique opportunity to bear Christ to the world by how we live on a daily a basis. We evangelize by how we live our lives. I've often heard people say they feel more Marianist than Catholic. The reality is that by being Marianist, they are being Catholic. To me that's the real gift to the Church.
Volunteering at the national level with the Marianists must take quite a bit of your personal time.  What motivates you to continue at that level?
—AMY D. LOPEZ-MATTHEWS '86, DAYTON
I volunteer with the Marianist Lay Network and other Marianist entities because I believe in what the Marianist Family has to offer the church and world. Our charism is a gift. I also believe in the notion that we are each part of something larger than ourselves. While I'm involved locally, I also feel an obligation to support our effort as a community of communities, across the country and around the world. I'm particularly motivated because my involvement allows me, as a lay person, to make a difference in the world at a time when religious vocations have decreased. It allows me to live my baptismal call and honors the fact that we are all called to share in the priesthood of Christ.
How can lay people live out the Marianist charism through their day to day lives as working professionals?
—STEPHEN MACKELL '13, DAYTON
Many people can cite such elements of the Marianist charism as community, faith, mission, Mary, inclusivity, etc. We don't often think of a Marianist spirituality. As a Marianist lay person, I believe the way we live our lives should be a model of the new evangelization, whereby the way we live our lives is a form of mission. As a lay person we may not use religious language in everyday life but we can live Father Chaminade's "System of Virtues" in order to be more Christ-like. In many ways, these are realized when we take a step back from a situation, when we hold our tongues when we'd otherwise lash out or criticize, when we don't make assumptions or let our imaginations get the best of us, etc. We replace bad habits with good habits. I also believe we all have gifts to share. It is important to recognize the gifts of others and encourage them to use their gifts. Believing in and participating in teamwork and collaboration and respecting the voice of others is another way to live the charism. Being open to the unexpected, as Mary was, is a way to grow and to pursue something we might not otherwise have considered. Organizationally, I believe Father Chaminade's use of the three-office structure (education, spirituality, temporalities) can be applied in a workplace. Some people are good with ideas and vision. Some are good with implementation, numbers, and details. Others are good at connecting the dots, shaping conversations, and making sure everyone's on the same page. Some have specific knowledge or skills to apply to a task or situation. Forming teams that encompass each can serve to maximize the team's potential. So there are practical and spiritual ways we can live the charism on a daily basis.
What has been the greatest gift of the Marianist charism for your own journey of faith?
—BRIAN HALDERMAN '99, SAN ANTONIO
The greatest gift of the Marianist charism for my own faith journey has been that of welcome/hospitality/inclusivity/family. I've had a very personal relationship with God, Jesus, and Mary since my childhood. I've been active in the Church and in parish life, including being employed by the Church. I considered the priesthood. More than once, however, I've thought about leaving the Church because I felt the Church didn't want me. I've never experienced that within the Marianist Family. It is because of the Marianists that I remain Catholic today.
What does it take to become a Lay Marianist? Is it like being an Associate as some other orders like the Franciscans or Benedictines have? Does it take a long time? Do you have to say special prayers? Would I know one on the street? Does one have to be part of a local community? Where do I go to find out more?
—SUSAN VOGT '69, COVINGTON, KENTUCKY
There are many points of entry into the Marianist Family. Yet most lay formation has been through programs administered by the Society of Mary, including those at the universities. Though the lay branch has seen a resurgence in the last couple decades — and in 2006 received canonical status from the Vatican — it has been slow to adopt internationally accepted standards for what it takes to become a lay Marianist or to live as a lay Marianist. However, as an association of the faithful, recognized by the Vatican, official status is dependent upon being listed in a country's national lay directory, and subsequently the international directory. So, membership in MLNNA is critical for Marianist Lay Communities and those who identify as lay Marianists. MLNNA leadership, along with their counterparts around the world, are currently working to establish common guidelines and expectations for becoming and living as a lay Marianist. One can learn more about MLNNA at www.mlnna.org and can also learn about lay formation at www.marianist.com/mlfi.
Of the five elements of the Marianist charism (Faith, Community, Mission, Discipleship of Equals, Mary) which do you find most attractive? What attracted you to become a Lay Marianist?
—SUSAN VOGT '69, COVINGTON, KENTUCKY
Discipleship of Equals, translated to hospitality, diversity, and inclusion is that sense of family and welcome that most of us feel when we first come into contact with Marianists. I know it's what drew me. It is a strong element of the charism that makes the Marianists unique in many Church circles. Not every religious organization is built on the idea that priests, brothers, sisters, and laity can be equals in the life of the Church. That element continues to play a role for me today although I think I've grown in my understanding and appreciation of community, faith, mission and Mary. I've always had a relationship with Mary, but she has played a much larger role in my adult life as I discern and accept the plans that God has for me. We are blessed to have her as a model and we are blessed to have community so that we are not on our journey alone.
Do you have to live around a Marianist university to be a Lay Marianist?  (e.g., Dayton, Honolulu, San Antonio)
—MARGE CAVANAUGH '67, ARLINGTON, VIRGINIA
The three Marianist universities are certainly hubs of Marianist activity. This is largely due to the numbers of vowed religious who have worked at the schools, employees who have become lay Marianists and students who have become lay Marianists. However, lay Marianists exist all over the world. There are many Marianist Lay Communities in cities where there isn't a vowed Marianist presence. There are even more lay Marianists who are out on their own because we are such a mobile society. Being a mobile and international organization, one of our challenges is to stay connected. Some people contact MLNNA seeking Marianist lay communities in certain parts of the country. Others stay connected by participating in virtual or cyber communities where members share prayers via email, visit one another via video conferencing, and periodically come together for a retreat/reunion. Some people belong to more than one community. They stay connected to one community virtually but they also belong to one whose face to face interaction is more consistent. Lay Marianists are also encouraged to start communities so that we can grow our presence in the world.
The following questions and answers appeared in the University of Dayton Magazine, Summer 2015, vol. 7, no. 4.
Are lay Marianists a branch of the Marianist brothers and priests?
—JIM VOGT '68, COVINGTON, KY.
Laity are not a branch of the religious. Unlike other religious orders who established associate organizations for lay people, Father Chaminade founded the Marianists by first forming small Christian communities known as sodalities. Religious vocations grew out of the sodalities. The branches of the Marianist Family collaborate but remain autonomous.
Has the lay branch of the Marianist family always been as active as it is today?
—STEPHEN MACKELL '13, DAYTON
The involvement of laity in the Marianist Family has ebbed and flowed. In the last couple decades, however, a vocation among Marianist laity has grown. In 2006, Marianist Lay Communities, collectively as an international entity, were officially recognized by the Vatican as a private association of faithful, giving the lay branch canonical status in the church. Marianist laity work in their chosen career fields; some work in Marianist institutions. Some have started ministries, such as the Mission of Mary Farm in Dayton.
The Marianists are known for creating inclusive and hospitable communities of faith. How do you help bring this to life as a lay Marianist?
—BRIAN HALDERMAN '99, SAN ANTONIO
I'd like to think I am inclusive in all aspects of my life — my friends, workplace relationships, volunteer commitments. Within the Marianist Family, I have worked to make communities more welcoming of LGBT people by participating on the LGBT issue team of the Marianist Social Justice Collaborative (MSJC). Additionally, through MSJC and through my involvement in national leadership, I have participated in efforts to bridge intergenerational gaps. Within my Marianist Lay Community, we are diverse in composition. Some of us are single, some are married, some have kids, etc.
What do you do as part of the national leadership council for Marianist laity?
—AMY D. LOPEZ-MATTHEWS '86, DAYTON
The lay branch is led by the volunteer leadership team of the Marianist Lay Network of North America (MLNNA). MLNNA maintains a directory/database of lay Marianists and Marianist Lay Communities in North America. We hold assemblies that bring people together from across the country. We have a monthly newsletter and use other social media. We help fund ministries such as the Marianist Social Justice Collaborative and the Marianist Lay Formation Initiative. One of my current responsibilities is to lead MLNNA through the process of clarifying how someone becomes a lay Marianist. I also serve on the Marianist Family Council of North America, which consists of representation by all three branches.
Tell us about your experience at the International Marianist Meeting in Peru last summer?
—LAURA LEMING '87, DAYTON
An international Marianist meeting is like family reunion and like the experience of the Apostles at Pentecost. To be in a place where people don't speak the same language yet everyone has a common vocabulary is exhilarating and inspiring. The more we are able to gather and share ideas, the more we learn better ways to evangelize, strengthen our small Christian communities and bring Christ to the world.
What's new from the Marianist Social Justice Collaborative?
—MARY HARVAN GORGETTE '81, PARIS
Some recent MSJC efforts have been to engage young adults in service projects and immersion experiences in the context of the Marianist charism. MSJC and the Marianist Environmental Education Center will also have materials and suggested actions for individuals and communities to consider when Pope Francis releases his encyclical on the environment. MSJC also recently published a document, Addressing LGBT Issues with Youth, to help Marianist educators create a pastoral, safe and inclusive environment for LGBT students.
What would you like to see develop among Marianist laity? 
—JOAN SCHIML '90, DAYTON
A greater institutional capacity to serve the Marianist Family, church and world. Without sacrificing diversity and flexibility, we could benefit from a more formalized identity. Additionally, with the decreasing numbers of vowed religious, it will take committed lay people to continue Marianist ministries as well as respond to the signs of the times by starting new ones. It is time for lay people to be bold in their aspirations and to begin initiatives without relying on others to tell us how to do it.
For more about the Marianist Lay Network of North America, see www.mlnna.org.