---
A podcast produced by several alumni and directed by UD professor Chris Burnside '09
Unwritten is an eight-episode podcast that developed when several UD alumni, along with others, wanted to create a script that revolved around current social issues. Produced by the Dayton Writers Movement, the podcast aired in September and reached listeners in 32 countries in its opening month. "Unwritten" tackles themes of sexual violence, mental health and LGBTQ issues. "Our goal is to attract podcast listeners who haven't heard a story addressing such real-world issues; alongside them, we also want listeners who care about these issues but haven't yet broken into the audio drama world," said Chris Burnside '09, University English professor and DWM's executive producer. Others who participated in the project include Anna Adami '16, Joey Ferber '16, Jenna Gomes '15, CC Hutten '15, Grace Poppe '16, Tavis Taylor '16 and current student Avery Hutto. Listen to the podcast at www.unwrittenpodcast.com.
---
Ashley Solomon vividly recalls then-President Dan Curran entering her house at 107 Evanston while holding her crying roommates in her arms as they mourned the loss of a close friend. He sat there silently supporting Solomon and her friends, witnessing their pain.
Solomon said, "I think about that night and what that meant when I consider how important a person's presence can be. It's powerful just to sit and listen and bear witness, even without saying anything at all."
While at UD, Solomon continued to bear witness to others by writing in newsletters for the Women's Center. It was through this opportunity that she found a passion for hearing stories and helping others.
Solomon went on to pursue both her master's and doctoral degrees in clinical psychology. During her pre-doctoral residency in Philadelphia, she was able to work at a hospital treating patients with eating disorders. And during a fellowship, she focused on developing programs and doing research on eating disorders.
After serving as the director of eating disorder treatment at the Insight Behavioral Health Center in Chicago, she wanted to return home to Cincinnati and make a difference locally. Two years ago, in 2014, Solomon opened the Eating Recovery Center of Ohio and is currently the executive director.
In her work, she remembers the way Curran comforted her roommates and attempts to make her patients feel the same way. Her mission is to not only give her patients support and guidance but, as she said, to "restore them nutritionally, physically and psychologically."
Solomon said, "UD teaches us that we are blessed with so many gifts and opportunities, and it is our responsibility to give back and support each
other."
---
In May 2016, eight undergraduate students began collecting, archiving and publicizing instances of moral courage — standing up on behalf of others in danger, regardless of the risk in doing so. The place was Ferguson, Missouri.
For months before, students had trained and researched with whom they should speak and what they should ask. It was not easy. Some activists were known only by their Twitter handles. Others did their work with little fanfare — the librarian who taught students when the schools closed, the peacekeeper who on the streets mediated between residents and officers. Jimmie Briggs, a journalist with St. Louis and Ferguson roots, helped students make the connections and develop the relationships needed to capture the testimonies. 
When they arrived, the students put on headphones and held out microphones, asking 33 strangers to expose their souls and speak on issues of race and place, reality and hope. These voices add depth and texture to the headlines and protests that followed the police shooting death of Michael Brown Aug. 9, 2014.
In partnership with PROOF, a nonprofit advocating visual storytelling for human rights and peacebuilding, and led by assistant professor of human rights Joel R. Pruce, the project continues to bear witness. At a September campus forum, the students presented their work alongside stories of protest from Ayotzinapa, the college in Guerrero, Mexico, where 43 students disappeared. An exhibit of Ferguson photographs and testimony, Ferguson Voices: Disrupting the Frame, will be on display Jan. 17 – Feb. 3 in the Roesch Library first floor gallery, before traveling to other exhibit sites in Dayton, St. Louis and Ferguson. For more voices, including those of the student participants, visit
www.facebook.com/moralcourageproject/.
Founder, Show Me Arts Academy
I told my husband, "Oh, I'm 'bout to go over there." He said, "No, you don't need to go." I said, "Yes I do need to go over there because, if this was my baby, I would want someone to come over and be there for me." He was like, "You don't even know her. You don't know them. You'll get hurt." I said, "And that's what's wrong with us now." We feel like because it's not personal, since I don't know the person that I can't have compassion for the person. I said, "As long as we continue to operate in that manner and not just simply take the time out to embrace somebody in a bad situation, we'll never figure out what's going on." But we were weeks into it. I found myself feeling empowered.  
Emily Davis
Community advocate, third-generation Ferguson resident
I have learned so much in the last 20 months, like stuff … I just didn't understand from being white, from growing up white, from being raised white that I didn't understand. A lot of it has to do with dialogues and conversations that took place at protests, which inspired me to do more research on my own, to look things up, to read things, whether I was comfortable with it or not comfortable with it or whatever — there were things that I needed to listen to. … So those sort of relationships really inspired me.
.
Greg Casem
Veteran officer, Ferguson Police Department
You gotta remember I've been here 27 years, so I'm a grandpa here. And the protesters don't have to like me. But I tell our officers, you treat people fairly, and they'll treat you fairly. [People] would tell me problems, whether in their own home or outside of their home, because they felt comfortable. I would want you to talk to me. I don't want kids to be scared of me. Those parents that say you better watch it or he'll take you to jail, that hurts me 'cause I don't want a kid to feel that he can't approach me. I want families to approach me because there are problems that we can't see.
Darren Seals
Anti-violence advocate, union autoworker
I kind of like tell people all the time, if you wasn't here when it happened, you kinda missed out on a great opportunity, 'cause on TV, it looked like a warzone. … It was like 98 percent family reunion, 2 percent riot. … And everybody getting along. I seen enemies, I seen cats that I had beef with growin' up, and they seen me, like bro, bro, come give me a hug. I'm like, that's what's up. It only lasted about two weeks, but it still felt good while it happened.
Editor's note: Seals was murdered Sept. 6, 2016
---
When University of Dayton students left for fall break, faculty and staff played with Legos and took a stroll through virtual reality.
But they weren't playing. They were dreaming together about the University's future and using creative ways to express their hopes and dreams.
One group constructed a monorail that would run between the center of campus and River Campus. Another built an urban farm in a reclaimed factory as an experiential learning space. Using virtual reality, others walked through a classroom of the future and considered ways they might revolutionize teaching by supplementing their lectures with engaging, immersive experiences.
This was the scene on campus on "Visioning Day," a series of opportunities for faculty and staff to think seriously about our future.
I am asking the University of Dayton community and our alumni to think big, even audaciously, as we create a strategic vision together. We're a great university with a collaborative spirit, but we would be a shadow of who we are today if, throughout history, we had not had big aspirations and adapted and changed for the times.
And, quite frankly, we are better than we know we are. We are better than others know of us.
Here's our collective challenge: We must look honestly at our strengths, weaknesses and the challenges ahead of us. As we gaze 20 years into the future, we need to develop a few powerful, transformational ideas that will provide strategic direction, help prioritize investments, spark private support at higher levels — and move the University to a new level of excellence. At the end of our strategic visioning process, everyone needs to feel they've been heard.
That's why I'm crisscrossing the country — from Dayton to Chicago, New York to Los Angeles — to talk to alumni about their dreams for their alma mater.  I'm encouraged by the level of engagement and the wealth of creative ideas.
I'd love to hear your thoughts about the core values of UD that resonate with you. What differentiates a UD education? What areas of excellence will we be known for in two decades? What are those areas in which we fall short, and how do we tackle the issues of affordability, accessibility and diversity so that students from all socio-economic walks of life feel welcome and supported?
Thousands have already weighed in, and you can, too, at udayton.edu/VisionUD.
Join me at an upcoming alumni gathering for a dialogue about our future. Tap into weekly online conversations as we grapple with questions about the growing influence of digital educational technologies and the significant trends in American society that will shape the curriculum of the future. Read my fall faculty and staff address, where I candidly lay out the challenges and invite all who love the University of Dayton to help shape our aspirational vision.
We teach our students to adapt and change in a changing world, still true to the urgings of Blessed William Joseph Chaminade.
Today, we embrace that same challenge — with imagination and faith in our future.
---
Women's soccer wins A-10 championship, beating No. 1 seed 7-10
The women soccer Flyers beat No. 1 seed Saint Joseph's 7-0 in the Nov. 6 Atlantic 10 Conference Tournament title game. UD has won a league-record 10 A-10 championships (1996, 1999, 2001, 2003, 2004, 2009, 2010, 2011, 2014, 2016).
The first title, in 1996, and this year's were won in Rhode Island. Mike Tucker, who retired at the end of this season, was head coach for all 10 titles.
The seven Flyer goals set the A-10 tournament record for goals in a single match.
"Soccer is an imperfect game," Tucker said. "This one was as close to perfect as any Flyer game I've seen."
The Flyers were not scored on in the tournament, defeating Saint Louis 2-0 in the quarterfinals and George Washington 3-0 in the semifinals. Goalkeeper Kaelyn Johns broke the A-10 tournament record for individual shutouts.
Junior Alexis Kiehl broke the tournament record for points (12) and goals scored (5). Senior Libby Leedom tied the A-10 championship single game record for points (7).
Kiehl and Leedom each had a goal and an assist in the Flyers' NCAA tournament game in Columbus against Ohio State, but the Flyers lost 3-2, ending their season at 9-10-3 overall.
"I could see the team getting better," said Tucker of the games leading up to the tournament, "but then something just clicked for them. The tournament was as good a three-game stretch as we've ever had."
The end of any season, Tucker said, brings with it a total shift. "You've been going 200 miles per hour," he said. "You're on the field every day."
This year, with retirement, the shift is permanent. He said he won't miss the sleepless nights, an occupational hazard of coaching.
"I will miss," he said, "the players, the coaches, the interactions."
He talked of the players as a father might talk of his children.
"It's hard," he said. "But you just have to let them grow up. Let them make mistakes. But you give them the information hoping they don't. The best days for me are when alums come through the door. Makes you feel you've been doing something pretty good."
He also observed that coaches tend to dwell more on the agony of defeat than the joy of victory. But that 7-0 championship win will bring him joy for many years.
---
In 2013, my freshman year at Dayton, I went to our gym, the RecPlex, every day. I'm talking every single day.
Classes were done? Off to the Rec.
Friday night? Rec.
Saturday morning? Rec.
I probably spent more time hooping than I spent in my dorm room. I think other kids noticed. But not like, "Oh, that kid's really good at basketball." Nah, it was more like, "Oh, that Jeremiah kid down the hall? He's a weirdo. He never goes out."
I remember spending my first Halloween on campus alone in the Rec, where the only sounds in the whole place were my bouncing basketball and my sneakers screeching on the waxed hardwood floor.
All the hours I spent there — I kept telling myself they'd be worth it. If there was one thing I had learned, it was that I should never give up. And after freshman year was over, I went back home and continued to work hard in the gym.
I was determined to get a chance to play on a D-I squad, and I was going to do anything to make that a possibility.  At the beginning of my sophomore year, a few days after dropping off my résumé and cover letter at Dayton's athletic department, I received an email from a graduate assistant that said I would get a 10-minute tryout. It didn't sound like much, but I was intent on making the most of it.
At the tryout, I ran around some cones, put up a few shots and showed the graduate assistant my handle. When my 10 minutes were up he blew his whistle and called me to the sideline. I could tell by the tone of his voice that I hadn't made it.
"I love your heart, Jeremiah," he said, "but all the spots on the team are filled. We do have one opening on the bench for a team manager. Is there any chance you would want to fill that role?"
I was sad, but getting a spot at the end of the bench sounded like the next best thing to actually making the team.
"Yeah, I'll gladly do that."
Before I left he gave me one piece of advice.
"Always bring your basketball shoes to practice," he said. "You'll want to be ready to impress someone."
He was right. At practices, the coaches would play me in scrimmages. I'd get right up into a starter's face, call out picks and do all sorts of little things to show my attention to detail. After practice ended, I'd stick around to clean up and then shoot around for an hour or more.
Early on in the 2014–15 season, something crazy happened. Three players suffered season-ending injuries, and two more were dismissed from the team due to an off-court incident. That left us with only seven scholarship players.
I was sitting on the bench with a ball in my lap after practice one day when Bill Comar, Dayton's director of basketball operations, sat down next to me.
"Hey, Bonsu, I've got a question for you."
My heart skipped a beat, but I didn't say anything.
"You know the situation we're in with losing all these bodies. How would you like to be …"
"Yes!"
We both laughed.
"You didn't let me finish!"
"Yes! Yes! Yes!"
I was going to be a walk-on for the Dayton Flyers.
I haven't played a single second yet. But I know my time will come. It always has. It's just a matter of how much effort I put into the game.
I want to be a coach. And not just any coach — I want to lead a top-tier D-I program. Trust me, I'm going to be putting in the work to achieve this dream. I don't know any other way.
See The Players' Tribune at bit.ly/UDM_Bonsu for the original, longer version of Bonsu's essay.
---
But new women's basketball coach knows her team well. 
On Sept. 7, Shauna Green was beginning her second year as an assistant coach for the Northwestern University women's basketball team. On that day in Dayton, Jim Jabir, head coach for women's basketball at Dayton, announced, "I am resigning today from the best job I've ever had. … I feel it's now time to take care of my family and my personal health."
On Sept. 11, it was announced in Dayton that Green, an assistant at Dayton from 2012 to 2015, would be the new head coach. As a player at Canisius, Green became the only women's basketball player in school history to score more than 2,000 points. She also ranked second there in career rebounds (910).
"Basketball is my passion," said Green.
But she did not set out to be a coach. "I was a business and marketing major," she said. "I first thought about coaching in my junior year."
After graduation, she planned to play overseas. An injured ankle derailed that plan. Instead she took an assistant's job at Loras College. After three years, she was Loras' head coach. Then followed stints at Providence, Dayton and Northwestern.
On Sept. 14, she was back in Dayton to be introduced as head coach at a news conference. That night she was making an in-home visit to a recruit.
"The timing of the change was hard," Green admitted.
Rules allow teams to practice two hours per week during the month of September. While taking over those practices, Green had to pick up on recruiting because September is a contact period. She spent most of the month on the road. She was familiar with recruiting for Dayton, however, having recruited many of the current team's players.
"I recruited or coached all but two of them," Green said.
Having those relationships established has eased the transition. Green believes coaching "is about relationships. It used to be that, as players, you just listened to the coach. Now, the players have to know that you care about them."
Players have to know that they must work hard. But also important, Green said, is that "we
show them there is a reason for what we want them to do, a purpose to it, a reason why we do something. We need to say, 'Here's what we expect and why.'"
She's been happy with the team's mentality in practice. About early preseason practices, she said, "Only one practice did they start slow; they were not at the energy level they need."
She did add, "It was at 6 a.m., though."
---
What's at the heart of being a Marianist?
We asked that of Father William J. Meyer, S.M., provincial assistant for religious life of the Marianist Province of the
United States.
The distinctive trait at the heart of anyone or anything which is "Marianist" is probably the combination of two characteristics: zeal and mission. Look at the dynamic statue of Blessed William Joseph Chaminade, founder of the Marianist Family, which graces the plaza behind UD's Kennedy Union to notice that Blessed Father Chaminade is represented as filled with a zealous energy, a person definitely on a mission. (See video of the statue below.)
From where did this concern for "zeal and mission" in the Marianist tradition emanate? In founding the Marianist Family — the first lay groups of the Sodality of Bordeaux (1800), the Marianist sisters (the Daughters of Mary Immaculate, 1816) and the Marianist brothers and priests (the Society of Mary, 1817), Blessed William Joseph took inspiration from the Rule of Saint Benedict. In what many refer to the crowning chapter of his Rule, Benedict speaks of the importance of "good zeal." Like Saint Benedict, Blessed Father Chaminade liked the word "zeal" — a powerful word that is used in the Scriptures. And there is something about Benedict and Chaminade that is zealous. As I look at the UD statue of Chaminade, I see energy, a fire burning within, the fire of the Holy Spirit — the good zeal of God's grace.
Marianists encourage one another and others they encounter using our saintly founder's words: "The essential is the interior." If we pay attention to the interior life of God's graceful promptings, the direction of the Holy Spirit will help each of us do our part to bear Jesus, as Mary did, to a waiting world. Blessed Father Chaminade believed that we could best be attentive to this presence and movement of God within by being part of a community, religious and lay, as mission-driven members of the Church. Chaminade believed that all Marianists and indeed all baptized members of the Church are in a permanent mission of responding with zeal to this grace of bringing about the Kingdom of Jesus.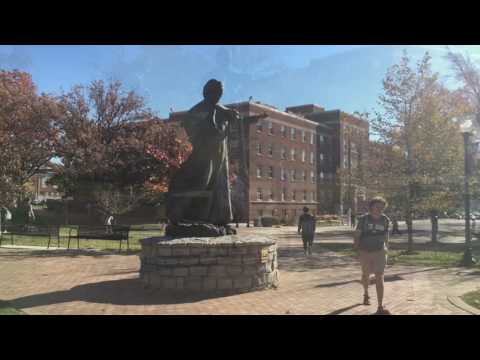 ---
It was about more than hockey.
Walt DeAnna '62 didn't expect many perks for the fledgling hockey program at Dayton when he became coach in 1963-64. But he believed the school could at least provide the bare essentials, and he wasn't afraid to push for them.
Instead of having the Flyers wearing second-hand uniforms donated by a local pro club, DeAnna sought out Harry Baujan, the athletic director then, to see about getting jerseys in the traditional UD colors of Columbia blue and red.
"I asked him, 'Do you have any old football jerseys?'" DeAnna recalled. "He took me down to the stadium, and there was a bunch of old jerseys: powder blue, red numbers, and red-and-blue stripes on the sleeves. But they were the kind with the tails that you buttoned underneath you to keep the jersey in.
"I got all the tackle and guard jerseys I could, and we cut off the tails. Those were our jerseys the first couple years."
The Flyers often had to make do without top-of-the-line gear, even after transitioning from a club team to the non-scholarship varsity level in 1964-65.
But DeAnna still managed to build a winning program by providing structure, attracting top talent and developing bonds with his players that have only grown stronger with time.
"I tell people all the time, 'If you don't have a Walt, you don't have a hockey program,'" said Bill Bommarito '77, a four-year captain. "You need people like Walt DeAnna to make that happen."
The program had an unlikely pioneer. Although DeAnna was from Windsor, Ontario, he wasn't a hockey buff like most native Canadians, playing only sporadically at the youth level.
But he picked it up again when he attended college, choosing Dayton after hearing about it through his high school vice principal, Paul Donoher, who was the brother of UD Hall of Fame basketball coach Don Donoher '54.
Playing in the school's first hockey games as a freshman in 1958, DeAnna would become the team's leading scorer each of his four years. One year after he graduated, the team needed a coach, and he was urged by younger brother Mario '65 and other players to take the job.
"I told them, 'If we could ever get it to be a varsity team, I'll spend some time with it,'" DeAnna said.
That wasn't an easy sell. Before securing varsity status, DeAnna had to get the blessing of Baujan's successor, Tom Frericks '53.
"I told him the guys were scrounging around for $10 or $25 to rent the ice and pay the referees," DeAnna recalled. "He said, 'I tell you what, you run it one year the way you're running it, and you report back with your financials and all the things you're doing. If I think it's worthwhile, I'll take it to the athletic board.'"
One year later, DeAnna and the Flyers did enough to win Frericks' support. The board was also swayed, approving a $1,500 budget.
"Frericks never asked how many wins or losses I had. He just knew we were taking care of 25 to 30 kids who wanted to play hockey," DeAnna said. "And we had some interest on campus from people who wanted to see us play."
DeAnna had a career record of 211-107-16 in his 22 varsity seasons with four conference championships while playing mostly against other college programs around the state.
He routinely corralled seasoned players from hockey-mad cities such as Boston, Detroit and Chicago as well as about a half-dozen prospects each year who had Division-I scholarship offers.
The recruits fell in love with UD and liked DeAnna's balanced approach.
"I'd say, 'If you come here, your big game each year is going to be Oberlin. But if you want to be a doctor or lawyer, if your parents want some grades from you, you can't say hockey is going to interfere with your school. You'll graduate with a 3.2 instead of a 2.1 and play 18 to 19 games and keep your interest — rather than playing 60 games and practicing every day for a couple hours," he said.
"Surprisingly, a lot of the kids decided to come to the school because of that."
They certainly didn't come for the amenities. UD paid for the ice time for twice-a-week practices and home games at Troy Arena or wherever a rink could be found, while also ponying up for uniforms, refs and a modest $3.50 per diem on the road.
The players had to shell out for their skates and padding. And they were careful not to break their hockey sticks because those came out of their pockets, too.
"We knew we weren't football players. We knew we weren't basketball players. We knew we weren't scholarship players in any way, shape or form," said Bommarito, a St. Louis resident. "But I think the thing we always had on our mind was that our jerseys said, 'The University of Dayton.' We had a chance, maybe not with the brightest of lights, of representing the University with the something we loved doing."
Though the opposition was also of the non-scholarship variety, games were fierce. The Flyers embraced physical contact and sometimes even initiated it.
"I've got a (dental) plate. I lost a couple choppers," said former player Peter King '77, a Philadelphia product. "Some guy put the butt end of his stick down my throat."
Under DeAnna, the Flyers were tough. They finished under .500 only twice and went 18-1-1 in his last season in 1985-86.
The program is still going strong though it reverted to the club level again in 1990 when UD joined the Midwestern Collegiate Conference.
The news of the program being de-emphasized was a sad day for the varsity alumni, but they still take great pride in having been Flyers and are grateful for DeAnna's lasting impact. They affectionately call him "The Mentor."
Since many are now too old to suit up for the annual alumni game in Dayton, they have begun a fall tradition of spending a weekend playing golf and swapping stories with the 76-year-old DeAnna near his home in Port Charlotte, Florida.
"Walt was all the things you'd want in a father without coming down super hard on you," King said. "He was the kind of guy you could talk to when you made a mistake. He stood up for his guys. He made it fun, but he never put up with our juvenile behavior."
DeAnna, whose annual coaching salary topped out at $150, worked full time as a salesman for E.F McDonald in Dayton and stayed with the company after it was sold. He and his wife, Marilou, raised three children (all UD grads).
He traveled for work, but he always made time for his players.
"When I think of the Marianists — because I was fortunate to go to a Marianist high school and then a Marianist university — I always think of how their No. 1 asset is an ability to create community and make people feel part of something very special," Bommarito said.
"That's what Walt did."
---
When I was a secondary school principal, I dreaded the visit of my provincial, Father William Ferree, S.M. He had elaborate solutions to all my problems. I thought he didn't understand the reality of the situation.
He was, however, a genius.
True, an absent-minded one: He once came out to celebrate Mass without a chasuble; the server had to remind him to complete his vestments. He was intense, whether he was giving a tennis lesson or tackling large social problems, classifying Marianist historical documents or clearing a road with heavy equipment.
He never met a situation that was too big or too difficult to address. He addressed not individual problems but the big picture. He expected the same from others.
And he did not like whiners.
That is evident in his influential book, Introduction to Social Justice. He did not see complaining about institutions as a good beginning to changing them. To him, social charity requires us to give unconditional love to the institutions that we have created just as we would to another person, whether or not that person is perfect. This "mess we're in" (as he phrased it) is our global reality, the imperfect, untidy and developing gift from God through which we achieve ever higher and higher levels of human flourishing.
The mess is a gift from God. Our first task is to accept it as a gift of love.
According to Ferree, the act of social justice, that is, what one does to practice virtue, requires us to join with others to reconstruct all institutions from the family to global organizations like the United Nations. Drawing on the social encyclicals of popes, he taught that all virtues have a social dimension because humans were made to be in relationship.
They are wired to work together.
Our obligations will vary, he taught, based on our relationship to the institution, our family being our first obligation. He stressed the need for competence and professionalism in working to reconstruct the social
order.
To merely protest that an institution is not perfect, according to Ferree, alienates one from efforts to reconstruct it. He admitted that social reconstruction is a complicated, gigantic problem, one that never would be completely solved. He preached, however, humans are continually finding new tools with which to address the complexity of the problem and that our responsibility was to manage change and reorganize continually.
One of his "laws" — Cooperation, not Conflict — presents particular problems for social activists who see a duty to protest an unjust situation without understanding its complexity and the good that may exist alongside the injustice in a complex organization. Ferree did not advocate destructive revolution but creative collaboration.
The "mess we're in" is made up of institutions that humans have organized. Ferree sees this work of humans, this mess, as an image of God, the means God has chosen through us to deliver his grace. These institutions — from the UN to the church to the family — are imperfect. We need to accept them in their imperfection and to continually reorganize them.
As a young principal, I was trying to solve particular problems. Father Ferree was trying to alleviate their causes; he was trying to change the world.
"Introduction to Social Justice" by William Ferree, S.M., can be found at bit.ly/UDM_Ferree_introsocialjustice.