Did you know a chewed plantain herb can draw the anaphylactic out of a bee sting within 15 seconds? Did you know mullein can work as an expectorant, or spicebush layered under an asthmatics' bed can help them sleep at night?
These are just a few of the earth-grown remedies Leon Briggs – a Tonawanda Seneca Indian and educator – spoke about at the "Free to You From the Creator's Garden" discussion held on Nov. 15. Briggs talk closed the Native Peoples of the Americas Colloquium held by the Circle of Light, a UD inclusion and diversity program.
"Native plants are not 'things' to be objectively studied, owned and consumed without careful consideration of what the impact will be for seven generations," said Mary Anne Angel, the founder of the Circle of Light. "Plants are our relatives, and our lives are inextricably interconnected."
Briggs said there are 12 plants easily found in everyday life that have medicinal benefits, and that those "12 plants will soon turn into 144 remedies."
According to Angel, indigenous people have thousands of years of medicinal and nutritional plant knowledge and she believes that "it is important to bring indigenous speakers to UD to talk about native plants – not because their knowledge is better [than mainstream scientists and corporations] – but because both types of knowledge are invaluable and can work symbiotically with each other."
The colloquium is an annual event held in November during National Native American Heritage Month to educate the community on Native American history, culture and spirituality.
---
There are some new members of the UD community that have been sleeping under desks during class and even sniffing around neighbors' porches.
Even so, they are making many friends and leaving their paw marks all over campus.
4 Paws for Ability has returned to campus for the second time.  The nonprofit, which raises, trains and places service dogs with children worldwide who have disabilities has assigned eight dogs to teams of UD students during the fall semester to help socialize the animals for their future roles.
The program on campus began in spring 2015 when graduate student Amanda Prater decided to bring the campus' first service dog—Crash— to the University for social training.  She learned about the program when she was a University of Kentucky undergrad.
"It [was]my goal to implement this program on University of Dayton's campus because being involved with 4 Paws for Ability is a great way for UD students to get involved with their community, and the campus is also a great environment for the dogs to be socialized in," Prater, who is studying in the school of psychology, said.
Since then, UD's program has grown and five dogs are already set to arrive spring semester.
"I've really come to respect the role of service dogs," said student handler Meg Mahoney '18, who is a foster parent for 5- month old Mike, a half lab and half golden retriever. "It's been a great opportunity being able to educate others on what these dogs will do."
The animals go everywhere with their handlers whether it's class, grocery store shopping, restaurants or strolls through the neighborhood—all to make sure the dogs are ready for the next step, Advanced Training at the 4 Paws office in Xenia. Prior to coming to campus, the dogs are first trained at prisons by inmates, where the animals learn basic commands.
The dogs will eventually be trained and placed as: hearing ear dogs, autism assistance dogs, mobility assistance dogs, seizure assistance dogs, diabetic alert dogs, fetal alcohol spectrum disorder assistance dogs, facilitated guide dogs, multipurpose assistance dogs or search and rescue dogs.
"It is a blessing when you get to witness your foster dog meet their child for the first time," Prater said. "When you see the child smile and hug the dog you worked with and love so much, you know you have to foster again."
---
Wearing a traditional Omani dishdasha gown and a kuma turban, Tarik Alkharusi smiled broadly as he took a selfie of University of Dayton president Eric Spina relaxing with a dozen international students after a Sunday lunch.
Later, the senior mechanical engineering major handed Spina a pin of the intertwined flags of Oman and the U.S. as a gift for his hospitality.
"It was a great event where we could be together as international students in one culture and share our thoughts, dreams and hopes with the president for a better Flyer community," he said.
In an informal, free-ranging conversation over falafel, vegetables and cheesecake, international student leaders chatted with the president about the best parts of their University of Dayton experience and the challenges. Then, they peppered him with questions.
"I'm as new as the freshmen around this table. I'm still getting my sea legs," said Spina, breaking the ice. "Family and friends in New York always ask me what strikes me the most about the University of Dayton. My very quick and consistent answer: the students. The students really are remarkable in terms of their commitment to community and making a difference in the world."
The students, who hailed from Puerto Rico, the Middle East, China and India, said they appreciated the University's family atmosphere, the growing diversity of the student population, campus traditions and the helpfulness of faculty and staff.
"The teachers are passionate about students, but they're also concerned about them (outside the classroom)," said Gabriel Lopez, a senior entrepreneurship major from Puerto Rico. "I've seen them change people's lives, mine included."
One student told the president that the University needs to build more partnerships with companies to help prepare students for the world outside graduation. Another said he appreciated the improving relationship between students and public safety officers. Another reluctantly brought up the issue of the stereotyping of some international students.
"We value the richness that a diversity of countries and cultures brings to our campus," said Spina, who talked about improving diversity on campus.
"I'm an engineer, so I know a little about the design process," he said. "You'll sell a million widgets if your design team includes only people born in Buffalo who attended a Catholic school and were married with two kids and a dog. You'll sell a gazillion if your design team includes men, women, someone from Saudi Arabia, someone from Puerto Rico and a person with disabilities because a diverse group of people bring different perspectives. It becomes a more exciting, richer, higher-quality environment.
"As a university," he said, "if we don't become more diverse, it threatens our quality."
As the lunch closed, a student asked the president for his "best advice" for them after graduation.
"Everyone around this table is privileged. We all have an education. A lot has been given to us," Spina said. "I do believe hard work, passion and talent ultimately win out and will allow you to power through challenges. Be optimistic and push forward.
"My money," he said, "is on you."
---
Theater in Education, a new once-a-week CAP course, is UD's latest educational endeavor to bring new tools of learning to its students.
Co-taught by Dr. Treavor Bogard, a professor in the school of education, and Gary Minyard, a professor in the theatre department, the course is part of a collaboration with the Victoria Theater Association in Dayton. Consequently, students have the chance to bring the lessons they learn in the classroom to the children's theater program at VTA.
"The students are basically using drama as a teaching tool," Bogard said. "They learn lessons in their classroom on campus, then go to VTA and teach the lessons to the kids."
One way that the students implement their lesson plans is through VTA's children's shows, which had already been planned long before the course began in August.
"The students create a drama-based lesson based off of some element of the show," Bogard said. "We have to work with what's on their calendar, but the shows are used as a vehicle for exploring a certain concept."
One example of that is VTA's most recent children's show, Mutts Gone Nuts, in which trained rescue dogs perform different tricks. Throughout the show, UD students led interactive read alouds, puppetry and choreography sessions, all built around the show's key themes.
"Academic wise, we focus on using the show as a way to talk about rescue dogs, and how these dogs have finally found a forever home," Bogard said.
The partnership between UD and VTA is also highly beneficial for the students, providing valuable opportunities for mentorship.
"Before the lessons get implemented in the children's program, our UD students are mentored by the teaching artists at VTA," Bogard said. "We want our students to have confidence that their lesson plans will be successful with the kids."
In the case of this new course, it sounds like everybody wins – even the rescue dogs.
---
This past Veterans day, a group of over 100 cadets, 60 volunteers, veterans, students and friends gathered to run a 5k in recognition of all of those who have  fought for our freedom.
"Those who served our nation deserve to be recognized every day, but even more on Veterans Day," said Major Jeff Rosenberg , Chair or the ROTC program.
Ashley Morello, a veteran and now UD junior, started the Student Veterans Association (SVA) last spring as a way to meet other veterans on campus. In partnership with the ROTC program, Morello planned the 5k as a way to promote their organization, but more importantly as a way to bring together and honor veterans in the Dayton community.
"As a senior in ROTC, it's a great way to get involved and honor those who have already given so much," said UD student CJ Haag '17.
The 5k was sponsored by Miami Valley gaming and Sunshein Podiatry. Dr. Kevin Sunshein, a veteran and '80 grad was involved in ROTC while a student at UD. He now specializes in neuropathy therapy, which is a new alternative to traditional medicine. Sunshein says many of his patients are veterans.  Sunshein Podiatry is the third practice in the nation that offers this treatment and the first in the state of Ohio.
"It's a privilege to be here today as a sponsor, but even more exciting to participate as a veteran and UD grad." Sunshein said.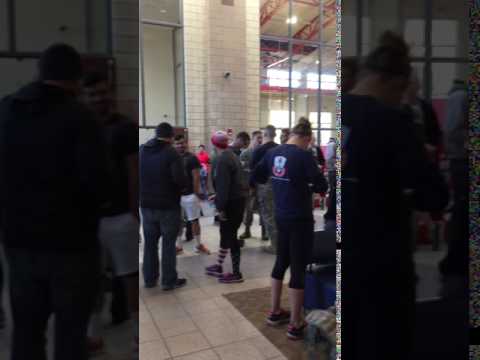 ---
Metal chairs with UD-colored cushions are used for a variety of reasons in Kennedy Union, but on Nov. 11, they were used to encourage conversation.
In light of the strong emotions sparked by the recent election results, a group of faculty and staff organized a flexible space for students, faculty and staff to share in personal reflection and dialogue of support. The forum was open to all — no matter who they supported.
Participants came and went as they found what they were looking for.
Gatherers were invited to write thoughts on sticky notes and anonymously plastered them around the virtually silent room.
"The last time I felt this way was Sept. 11, 2001," one community member wrote.
"I wish I was more shocked. I wish I was more surprised," another wrote.
As participants gathered back in their seats, conversations began to stir where participants were overheard saying, "I share that sentiment, I feel that" and "that really resonates with me."
One group passed around a paper inviting participants — who were strangers to one another an hour or two before — to sign their email and stay in touch after the organized gathering.  
On Nov. 10, University President Eric Spina wrote a letter to the campus community in which he encouraged the campus to work toward understanding and to show kindness with all.
"We are all called upon to respect the dignity of every person and to work together to strengthen our sense of community," Spina wrote. "Now, more than ever, let us make an effort to engage each other, regardless of political views or identity, with respect, support, and empathy."
---
Eric Spina, who spent most of his life in upstate New York, has turned into a walking billboard for the Dayton region and the university he heads — and he's unapologetic about it.
"My wife Karen and I are incredibly happy here. People on campus and in the community have been very gracious and welcoming," he told approximately 75 business leaders at a Dayton Area Chamber of Commerce's breakfast briefing at the Racquet Club on Veteran's Day. Students in the University's ROTC program presented the colors at the event.
"As a newcomer and now a transplant, I'm impressed by the virtuousness of the people. They're hard working, kind and generous. This region has a wonderful sense of place, and the culture in a community of this size is extraordinary," said Spina, who has explored the parks, rivers, restaurants and his favorite go-to place as an aerospace engineer, the Air Force Museum.
Noting the economic and demographic challenges that have faced Dayton, Spina praised the region's collaborative spirit, using the Dayton Performing Arts Alliance as an example of creative partnering. "But it's not just in the performing arts," he said. "I see that spirit throughout the region when there are community issues to address. People think of the greater good, rather than just themselves.
"This is a collaborative place, and there's an optimism that's remarkable."
Spina got a laugh with this quip, "I've been in places with defensive pessimism. You assume it's going to be bad and, if it isn't, you're pleasantly surprised. Not in Dayton."
Turning to the University of Dayton's role in the community, he noted, "This university understands the importance of the region. We're not an Ivory Tower university up on the hill. We're a national and international university that's an anchor institution in Dayton. We won't walk away from that."
Much like the "listening sessions" Spina held in Chicago, Los Angeles, Dayton, Cleveland and Washington, D.C. with alumni, he asked community leaders to share the core values of UD that resonate with them, realistically differentiate what makes the University special and boldly lay out the areas of excellence the University will be known for in two decades.
"We've made transformative moves before," Spina said. "After World War II, we went from being a small college to aspiring to be a major research university. Today, we're ninth in the country in sponsored research among private, comprehensive research universities without medical schools. That's extraordinary. Sixty years ago that was a dream."
Business leaders said they want to work with UD to keep "young talent" in the region. Another said he appreciated the University's willingness to think outside the box when the school worked with community leaders to attract GE Aviation and Emerson to campus.
"One of the greatest strengths — and I hope we never give this up — are the Marianist values," said Phil Parker '79, president and CEO of the Dayton Area Chamber of Commerce. "I want UD to be known for a culture of servant-leadership."
Spina assured the gathering that UD's mission won't change as the University transforms itself for the future.
"I wear a band on my wrist that I haven't taken off since I arrived. It shows the chapel's cupola and the words, Learn. Lead. Serve. It reminds me who we are," he said.
---
Bridget Lally is a student writer and reporter for the University of Dayton Magazine and UDQuickly. She also served as a student volunteer during UD's Erma Bombeck Writers' Workshop in April 2016.

Last spring, I scribbled and sketched out my career path during one of the most valuable experiences in my college career. I felt incredibly blessed to attend and receive a full scholarship for the Erma Bombeck Writers' Workshop.
I learned how to craft a compelling personal essay. I scribbled down all the ins and outs of creating a great blog and turning it into a successful website. I listened to creative experts like Amy Ephron and Alan Zweibel share how to be successful in this industry, from novel writing to humor writing. I gained insight on memoir writing, fiction writing and how to find a literary agent.
It was a very inspiring place for me. I had the honor of writing and delivering two introduction speeches for faculty members Nick Courage, an author and publishing professional, and Jenny Lawson, a blogger and author.
The scholarship, provided by the UD Alumni Association, gave me the opportunity to meet these amazing individuals. These instructors equipped me with tangible steps on how to write and publish a book, opening my eyes to new career aspirations. This workshop also provided instruction in writing style and voice.
The matching gift opportunity now being offered to sustain the biennial workshop is a strong testament to the benefits of this one-of-a-kind writing experience. The impacts of gifts — from any source, including the current campaign's anonymous matching donor — are monumental to my education and provide inspirational opportunities to every writer of every level.
The best part of this workshop was learning about the life and career of noted humorist Erma Fiste Bombeck '49 herself. Those three little words that inspired Erma — "You can write!" — continue to inspire me today. In fact, I have a coffee mug from the workshop that serves as a constant visible reminder.
For more information on the Erma Bombeck Writers' Workshop matching gift drive and #GivingTuesday opportunity, click here.
---
"What are you planning on doing this weekend for Halloween? What do you think about Halloween? Do you believe in ghosts?"
These were some of the discussion questions posed to prompt a cross-cultural dialogue in the Rike Center in late October during a gathering hosted by UD's Intensive English Program in the Center for International Programs
World Exchange is a weekly conversation group organized so U.S. and international students can take part in structured and open discussions together. The larger purpose of the gatherings is to help international students practice their English by engaging in dialogue with native English speakers.  
But the added benefit that one may not expect to receive is how much the native English speakers get to learn about different cultures during their conversations with international students.
The theme of the Oct. 26's group discussion was Halloween.
A prime example of how conversation is a two-way street: One American student explained to a Chinese student how at the time a student enters college, it's no longer socially acceptable for him/her to go trick-or-treating; how that custom is reserved for younger children. The Halloween holiday was completely foreign to this student, much like many of the other Chinese or Kuwait students in the room. In turn, the American students learned how something as common in this country as Halloween does not occur overseas.
The brief cultural encounter provided a welcoming environment in which both Americans and international students learned several new things about each other's cultural customs. The next World Exchange meetings are scheduled for Nov. 9 and Nov. 18.
---
This year's presidential election is a critical one, coming to a close tomorrow—Nov. 8— after being plagued by months of back-and-forth between the two primary candidates. On Oct. 25, a timely two weeks before Election Day, University friend Jim Dicke and Bob Taft, former Ohio governor, joined together to discuss the history of the American presidency and its elections.
Moderated by Dr. Roger Crum, a professor of art history and Liaison for Global and Intercultural Initiatives at UD, the hour-long talk was held in conjunction with the exhibition "U.S. Presidential Imagery and Memorabilia from The Dicke Collection and the Collection of Governor Bob Taft," which is currently on display in O'Reily Hall.
Taft and Dicke began by speaking to the history of the exhibit, including a discussion on a few of the inaugural medals that Dicke had collected over the years. Dicke credits his father for pursuing the medals, saying "When I was a kid, my father had an Eisenhower inaugural medal that he used as a paperweight. I found it fascinating, so I started collecting medals over the years, and there are some in the exhibit."
Later on during the panel, Crum asked Dicke and Taft about the American electoral process, and whether or not they thought our nation would learn anything from this particular election cycle.
Dicke said, "I believe that when this election is over, both parties will set up committees to study the lessons learned from this cycle. There is going to be a reappraisal on both sides, which can only be helpful to our country as a whole."
Taft and Dicke also offered some college advice to the young men and women in attendance. To stay true to the discussion's theme, both men emphasized how important it was to vote.
"Take your vote seriously and try to be an informed voter," Taft said. "People are definitely turned off by both candidates this year, but don't get too cynical by the politics."
The two speakers concluded that even though this election poses an incredibly tough choice, it's important for voters to spend time researching the candidates' policies and thinking about each candidate's character when voting.