This past Veterans day, a group of over 100 cadets, 60 volunteers, veterans, students and friends gathered to run a 5k in recognition of all of those who have  fought for our freedom.
"Those who served our nation deserve to be recognized every day, but even more on Veterans Day," said Major Jeff Rosenberg , Chair or the ROTC program.
Ashley Morello, a veteran and now UD junior, started the Student Veterans Association (SVA) last spring as a way to meet other veterans on campus. In partnership with the ROTC program, Morello planned the 5k as a way to promote their organization, but more importantly as a way to bring together and honor veterans in the Dayton community.
"As a senior in ROTC, it's a great way to get involved and honor those who have already given so much," said UD student CJ Haag '17.
The 5k was sponsored by Miami Valley gaming and Sunshein Podiatry. Dr. Kevin Sunshein, a veteran and '80 grad was involved in ROTC while a student at UD. He now specializes in neuropathy therapy, which is a new alternative to traditional medicine. Sunshein says many of his patients are veterans.  Sunshein Podiatry is the third practice in the nation that offers this treatment and the first in the state of Ohio.
"It's a privilege to be here today as a sponsor, but even more exciting to participate as a veteran and UD grad." Sunshein said.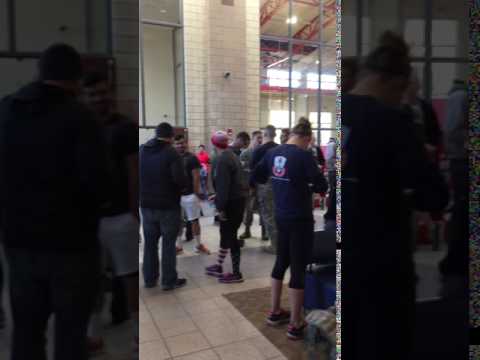 ---
Metal chairs with UD-colored cushions are used for a variety of reasons in Kennedy Union, but on Nov. 11, they were used to encourage conversation.
In light of the strong emotions sparked by the recent election results, a group of faculty and staff organized a flexible space for students, faculty and staff to share in personal reflection and dialogue of support. The forum was open to all — no matter who they supported.
Participants came and went as they found what they were looking for.
Gatherers were invited to write thoughts on sticky notes and anonymously plastered them around the virtually silent room.
"The last time I felt this way was Sept. 11, 2001," one community member wrote.
"I wish I was more shocked. I wish I was more surprised," another wrote.
As participants gathered back in their seats, conversations began to stir where participants were overheard saying, "I share that sentiment, I feel that" and "that really resonates with me."
One group passed around a paper inviting participants — who were strangers to one another an hour or two before — to sign their email and stay in touch after the organized gathering.  
On Nov. 10, University President Eric Spina wrote a letter to the campus community in which he encouraged the campus to work toward understanding and to show kindness with all.
"We are all called upon to respect the dignity of every person and to work together to strengthen our sense of community," Spina wrote. "Now, more than ever, let us make an effort to engage each other, regardless of political views or identity, with respect, support, and empathy."
---
Eric Spina, who spent most of his life in upstate New York, has turned into a walking billboard for the Dayton region and the university he heads — and he's unapologetic about it.
"My wife Karen and I are incredibly happy here. People on campus and in the community have been very gracious and welcoming," he told approximately 75 business leaders at a Dayton Area Chamber of Commerce's breakfast briefing at the Racquet Club on Veteran's Day. Students in the University's ROTC program presented the colors at the event.
"As a newcomer and now a transplant, I'm impressed by the virtuousness of the people. They're hard working, kind and generous. This region has a wonderful sense of place, and the culture in a community of this size is extraordinary," said Spina, who has explored the parks, rivers, restaurants and his favorite go-to place as an aerospace engineer, the Air Force Museum.
Noting the economic and demographic challenges that have faced Dayton, Spina praised the region's collaborative spirit, using the Dayton Performing Arts Alliance as an example of creative partnering. "But it's not just in the performing arts," he said. "I see that spirit throughout the region when there are community issues to address. People think of the greater good, rather than just themselves.
"This is a collaborative place, and there's an optimism that's remarkable."
Spina got a laugh with this quip, "I've been in places with defensive pessimism. You assume it's going to be bad and, if it isn't, you're pleasantly surprised. Not in Dayton."
Turning to the University of Dayton's role in the community, he noted, "This university understands the importance of the region. We're not an Ivory Tower university up on the hill. We're a national and international university that's an anchor institution in Dayton. We won't walk away from that."
Much like the "listening sessions" Spina held in Chicago, Los Angeles, Dayton, Cleveland and Washington, D.C. with alumni, he asked community leaders to share the core values of UD that resonate with them, realistically differentiate what makes the University special and boldly lay out the areas of excellence the University will be known for in two decades.
"We've made transformative moves before," Spina said. "After World War II, we went from being a small college to aspiring to be a major research university. Today, we're ninth in the country in sponsored research among private, comprehensive research universities without medical schools. That's extraordinary. Sixty years ago that was a dream."
Business leaders said they want to work with UD to keep "young talent" in the region. Another said he appreciated the University's willingness to think outside the box when the school worked with community leaders to attract GE Aviation and Emerson to campus.
"One of the greatest strengths — and I hope we never give this up — are the Marianist values," said Phil Parker '79, president and CEO of the Dayton Area Chamber of Commerce. "I want UD to be known for a culture of servant-leadership."
Spina assured the gathering that UD's mission won't change as the University transforms itself for the future.
"I wear a band on my wrist that I haven't taken off since I arrived. It shows the chapel's cupola and the words, Learn. Lead. Serve. It reminds me who we are," he said.
---
Bridget Lally is a student writer and reporter for the University of Dayton Magazine and UDQuickly. She also served as a student volunteer during UD's Erma Bombeck Writers' Workshop in April 2016.

Last spring, I scribbled and sketched out my career path during one of the most valuable experiences in my college career. I felt incredibly blessed to attend and receive a full scholarship for the Erma Bombeck Writers' Workshop.
I learned how to craft a compelling personal essay. I scribbled down all the ins and outs of creating a great blog and turning it into a successful website. I listened to creative experts like Amy Ephron and Alan Zweibel share how to be successful in this industry, from novel writing to humor writing. I gained insight on memoir writing, fiction writing and how to find a literary agent.
It was a very inspiring place for me. I had the honor of writing and delivering two introduction speeches for faculty members Nick Courage, an author and publishing professional, and Jenny Lawson, a blogger and author.
The scholarship, provided by the UD Alumni Association, gave me the opportunity to meet these amazing individuals. These instructors equipped me with tangible steps on how to write and publish a book, opening my eyes to new career aspirations. This workshop also provided instruction in writing style and voice.
The matching gift opportunity now being offered to sustain the biennial workshop is a strong testament to the benefits of this one-of-a-kind writing experience. The impacts of gifts — from any source, including the current campaign's anonymous matching donor — are monumental to my education and provide inspirational opportunities to every writer of every level.
The best part of this workshop was learning about the life and career of noted humorist Erma Fiste Bombeck '49 herself. Those three little words that inspired Erma — "You can write!" — continue to inspire me today. In fact, I have a coffee mug from the workshop that serves as a constant visible reminder.
For more information on the Erma Bombeck Writers' Workshop matching gift drive and #GivingTuesday opportunity, click here.
---
"What are you planning on doing this weekend for Halloween? What do you think about Halloween? Do you believe in ghosts?"
These were some of the discussion questions posed to prompt a cross-cultural dialogue in the Rike Center in late October during a gathering hosted by UD's Intensive English Program in the Center for International Programs
World Exchange is a weekly conversation group organized so U.S. and international students can take part in structured and open discussions together. The larger purpose of the gatherings is to help international students practice their English by engaging in dialogue with native English speakers.  
But the added benefit that one may not expect to receive is how much the native English speakers get to learn about different cultures during their conversations with international students.
The theme of the Oct. 26's group discussion was Halloween.
A prime example of how conversation is a two-way street: One American student explained to a Chinese student how at the time a student enters college, it's no longer socially acceptable for him/her to go trick-or-treating; how that custom is reserved for younger children. The Halloween holiday was completely foreign to this student, much like many of the other Chinese or Kuwait students in the room. In turn, the American students learned how something as common in this country as Halloween does not occur overseas.
The brief cultural encounter provided a welcoming environment in which both Americans and international students learned several new things about each other's cultural customs. The next World Exchange meetings are scheduled for Nov. 9 and Nov. 18.
---
This year's presidential election is a critical one, coming to a close tomorrow—Nov. 8— after being plagued by months of back-and-forth between the two primary candidates. On Oct. 25, a timely two weeks before Election Day, University friend Jim Dicke and Bob Taft, former Ohio governor, joined together to discuss the history of the American presidency and its elections.
Moderated by Dr. Roger Crum, a professor of art history and Liaison for Global and Intercultural Initiatives at UD, the hour-long talk was held in conjunction with the exhibition "U.S. Presidential Imagery and Memorabilia from The Dicke Collection and the Collection of Governor Bob Taft," which is currently on display in O'Reily Hall.
Taft and Dicke began by speaking to the history of the exhibit, including a discussion on a few of the inaugural medals that Dicke had collected over the years. Dicke credits his father for pursuing the medals, saying "When I was a kid, my father had an Eisenhower inaugural medal that he used as a paperweight. I found it fascinating, so I started collecting medals over the years, and there are some in the exhibit."
Later on during the panel, Crum asked Dicke and Taft about the American electoral process, and whether or not they thought our nation would learn anything from this particular election cycle.
Dicke said, "I believe that when this election is over, both parties will set up committees to study the lessons learned from this cycle. There is going to be a reappraisal on both sides, which can only be helpful to our country as a whole."
Taft and Dicke also offered some college advice to the young men and women in attendance. To stay true to the discussion's theme, both men emphasized how important it was to vote.
"Take your vote seriously and try to be an informed voter," Taft said. "People are definitely turned off by both candidates this year, but don't get too cynical by the politics."
The two speakers concluded that even though this election poses an incredibly tough choice, it's important for voters to spend time researching the candidates' policies and thinking about each candidate's character when voting.
---
---
It's never too late to reinvent your life. Just ask Karen Spina, who's living out the advice she gives her own children: "Find your passion and follow it."
In her early days at the University of Dayton, she's taken a highly visible role in her husband's presidency as they forge a path together at a dizzying pace.
The couple has criss-crossed the country, from Chicago to Los Angeles, to meet alumni. They've shared dinners at Marianist student communities, kayaked with the president's emissaries on the Great Miami River, opened up the president's residence for gatherings, joined students, faculty and alumni at the 10 a.m. Sunday Mass in the chapel, cheered on the Flyer football team and socialized at faculty receptions.
"I was ready for the next chapter in our lives. Even Eric says I'm reborn," says Spina, who juggled a 22-year career as a software engineer with raising two children, both now at Skidmore College. "Eric and I really are partners. I love the fact we're doing this together."
Whether over a cup of coffee at a local cafe or at a pizza dinner with students in her home, Spina exudes warmth, humility and unpretentiousness. What makes her tick? While she insists to a visitor that she doesn't think of herself as an athlete, artist or educator, consider her life's narrative.
At the age of 42, she earned her black belt in karate after her children expressed an interest in learning the martial arts. The following year, she trained and competed in the IronGirl triathalon — swimming a mile, biking 20 miles and finishing with a 5K run.
"In high school, I was so not athletic," she remembers with a laugh. "When I did the IronGirl, I couldn't believe I was actually doing this thing. I was not super serious about the competition side. I trained hard simply because it was something I decided to take on and had set a personal goal of completing the race in under two hours. Surprisingly, I did and got my name in the paper to boot. I couldn't imagine at age 43 I'd have my name in the paper for a sports-related thing."
Today, she runs four or five miles daily, enjoys yoga and Pilates, and, even as the days grow cooler, meets friends for water-treading workouts in a neighbor's backyard pool. It was here that she learned about the "Scarecrow Row" display at Oakwood's annual Family Fall Festival. She invited students to the house, cooked brunch and worked with them to create a jaunty Rudy Flyer scarecrow, complete with a pumpkin in his arm, for the exhibit.
"It was so much fun. Both of our kids are great artists, and Eric's mother was an art teacher. I always had an artist's closet full of supplies because I love to create," she says.
And, at heart, she's a teacher, too. The youngest of four children, she grew up in Wayne, New Jersey, with an engineer father and a stay-at-home mother. After earning a bachelor's degree in mathematics from Rutgers University, she entered graduate school at the University of Rochester, where she studied computer science, but also took sign language classes. "I wanted to be a math teacher for deaf students," she says.
Instead, she became a software engineer, who eventually "fell into teaching math" at her children's school when a teacher unexpectedly went on medical leave. Later, she worked one-on-one as a math tutor for 25 children. "I really felt that was my true calling," she says. "Computer engineering stimulates the mind, but I worked in a cubicle and didn't interact with people. I'm an extrovert."
Spina, who says her family is the most important part of her life, met her husband through her brother, Ed, who taught with him in the mechanical and aerospace engineering department at Syracuse University.
"I met Eric when visiting my brother but got to know him better when my brother asked us both to be godparents for his son. One weekend we babysat together, then Eric asked my brother for permission to ask me out," she recounts. I knew on the first date I wanted to marry him. We planned to go to dinner, a play and a jazz club, but ended up talking for hours over dinner.
"He's the complete package — a good person who's kind and a wonderful listener."
The couple found the University of Dayton to be the complete package, too.
"It's the first place he interviewed once determining he would consider a presidency, and we said, 'This is it,'" Spina says. "The Marianists are so warm and welcoming. The students are engaging, the community and University programs are fantastic, and the campus is gorgeous. It just felt right."
(This piece appears in the Nov. 4, 2016, issue of Campus Report.)
---
On Sept. 9 near the Chapel of the Immaculate Conception, it was only fitting that a honey locust tree was planted in honor of Father Norbert Burns, S.M. '45, a former religious studies professor who taught more than 27,000 UD students for over 50 years. A tree just seemed to be the only thing that would have roots quite as enduring as Father Burns' have been.
Besides teaching his Christian Marriage course, Father Burns also spent 45 years providing marriage counseling in his office until midnight. This passion for fostering and helping relationships blossomed at a young age for the long-loved Marianist.
"I went to a Marianist high school, a branch of Catholicism founded by Chaminade," said Burns from his home on Sawmill Road. "Chaminade felt that the answer to life could be found in oneness with one another and in each other's understanding of God and community."
Chaminade's beliefs appealed to  Burns, so much so he decided he wanted to spend the rest of his life trying to bring people together. Arriving at UD in 1958 with a mission in helping young people's understanding of relationships,  Burns quickly took over the Christian Marriage course to teach his beliefs.
"I believe in practicing in my class what I teach, so I greeted my students at the door as they came in and hugged them at the end of class, if they let me," Father Burns said. "The class formed a wonderful bond of oneness, and discussed the challenges and difficulties of marriage and relationships in the context of the Catholic Church."
As he looks back on his life, Father Burns is happy with what he's done and the help that he's given to people.
"I've had such a great life, and have done exactly what I wanted to do," said Burns, to whom the University dedicated the tree planting. "The tree is a symbol of life, of the embrace of God and creation. Since I had spent my whole preaching life in oneness, it just seemed that the tree was the best symbol of all that."
---
"If you have come here to help me, you are wasting your time. But if you have come because your liberation is bound up with mine, then let us work together." — aboriginal elder, activist and educator Lilla Watson, 1985.
This quote was printed on the back of purple teeshirts which student organizers of the Crossroads and Intersecting Identities Conference wore on Saturday, Oct. 22.
The conference, held at the Jesse Philips Humanities Center, was sponsored by students in the Creating Inclusive Communities initiative, part of the Center for International Programs.
The keynote speaker was James Loewen, a best-selling author who wrote Lies My Teacher Told Me: Everything Your High School History Textbook Got Wrong and Lies Across America: What Our Historic Sites Got Wrong.
Loewen is an educator holding a doctorate in sociology from Harvard University. He has taught race relations for more than 20 years. During his keynote presentation, he informed the audience how the distorted history we receive in schools while we are young impacts the negative state of race relations which exists today. 
A "safe room" was provided for guests, in the case the workshops or panel discussions brought about fear, anxiety or any type of personal unease.
Junior Lauren Durnwald, a psychology major, attended the conference and was moved by one session in particular, titled "She's Such a Slut!: Analyzing our gendered language choices and their impact" facilitated by Kristen Keen, the assistant dean of students.
"It was interactive. That surprised me because I thought it would be lecture-based," said Durnwald. "[Conversation] adds a different element to it, and I think that's important."
In another session, "Creating Community through Reciprocity and Relationships: The Case of Kettering Circles," students participated in a role-play demonstration of the challenging balancing act that the world presents to people living in poverty. Dr. Teri Thompson, a full-time professor in the department of communication, facilitated this session.
Education major and sophomore Taylor Tovey enjoyed this presentation about reciprocity.
"I learned about community unity," said Tovey. "If you just try to help me, that's not getting us anywhere. I enjoyed learning about the concept of working with people."